Recent Work

---
Sweep
The New Textiles: Transformed
Mobilia Gallery
Cambridge, Massachusetts
October 1 through November 15, 2015
I am presenting three large pieces at Mobilia Gallery in Cambridge, MA, as part of the exhibition
The New Textiles: Transformed.
The gallery recently became familiar with my work and invited me to participate in the show. I am showing two new thread- and book- based works, Sweep and Quercus Alba as well as Primary, an earlier piece from my Raveling series. I am excited to be expanding the representation of my work on the east coast.

---
Leotard

Be Creative with Workbox Magazine
March 2016
Be Creative with Workbox, a well-known British textile magazine, published a full page image of Leotard as a preview for a full-length interview about my work which will be published in March 2016. I'll post the interview as soon as it has been published.
Creative with Workbox →

---
In the Studio
Textiles are in Lisa Kokin's blood. Her parents were upholsterers, and she uses the techniques of sewing and book arts to create detailed, thoughtful work that often transforms found objects and words. For the exhibition Do Not Destroy, she created the piece Fauxliage: No Birds Sing which transformed Rachel Carson's landmark environmental book Silent Spring into delicate and quite convincing leaf forms, a reference to the anti-pesticide message therein.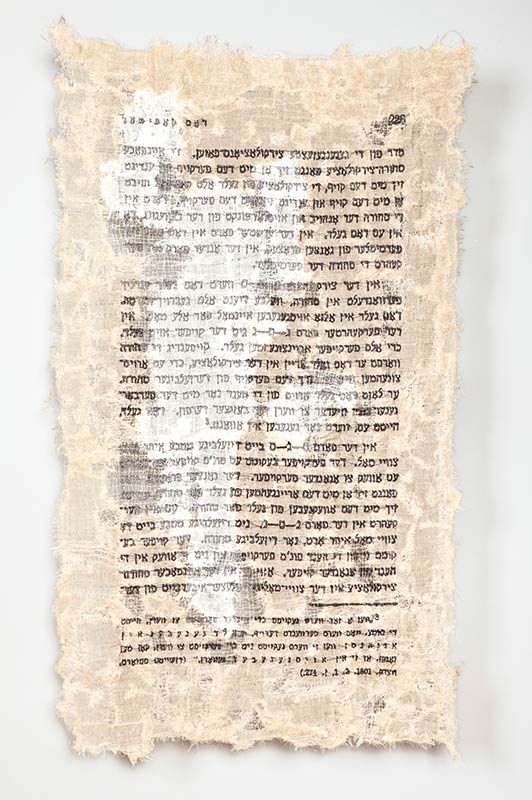 Page 226 (Das Kapital)
Ten Years of Artists' Books
Brooklyn Public Library, Dweck Center Lobby
Brooklyn, NY
October 1, 2015 — January 24, 2016
I am pleased to announce that my work will be shown in the land of my foreparents, Brooklyn. My piece Page 226 (Das Kapital) is one of the piece in the show. Ten Years of Artists' Books is a show guest curated by Donna Seager of Seager Gray Gallery, Mill Valley. It will be celebrating the anniversary of a gallery that has always championed the book as an art form. Donna Seager is unique among gallerists in that she had the foresight and vision to put the artist's book on the fine art gallery map. This is a show not to be missed and will include a broad spectrum of artists working in the medium in a wide variety of ways.
---
Cordifolia
Commission for the Palo Alto Medical Center
Los Gatos, California

My latest commission, Cordifolia, for the Palo Alto Medical Center in Los Gatos, is made out of paperback book covers and wire. It was fun to work with vibrant colors and make a playful, light-hearted piece. I love seeing my work in public spaces, especially healthcare settings where people from all walks of life can view and enjoy the work.
Continue to commissions→
Reuse Muse continues into 2016

Six weeks, Jan. 13 — Feb. 24, 2016
(no class Feb. 3)
Wednesdays, 1:00 — 3:30 p.m.
Cost: $495 (includes some supplies)
Registration has begun for Reuse Muse 2016. This ever popular six-week mixed media class is currently in its fifth year. The theme for the new year will be Ephemerama, transforming all kinds of found paper and photos into books, collages and sculpture.
Read more →
---
Mystery of Books/Books of Mystery

A One-Day Workshop Beata Wehr and Lisa Kokin
Sunday, November 15, 10 a.m. – 4 p.m.
Fee $195 (plus $10 for supplies)
In this workshop we will explore the subjects of mystery and dreams in the single signature pamphlet book format and its variations. We will use paper and/or cloth for the pages and stitch or collage meaningful objects and ephemera, with the option of adding painting, drawing or handwriting. We will start with a short informal guided writing exercise to generate the content. Then we will continue with selection of the materials, design of the pages, and shape of the book - it does not have to be rectangular. Everyone will get individual feedback from Beata and Lisa.
Beginners are always welcome!

Read more →
---